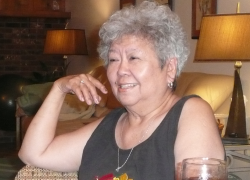 Margie (Matsushima) Miyoshi
(May 31, 1942 – September 16, 2021)
Margie (Matsushima) Miyoshi was born on May 31, 1942 and went to meet her Lord Jesus on September 16, 2021. She was a devoted wife, mother, and grandmother. A loving and caring sister, aunt, and friend.
There are many traits that define a person, but the trait that stands out the most about my mom is hospitality. That might seem like an odd single word to describe a person, but it fits. After all, hospitality is a gift from God. And Mom was blessed with an abundance of hospitality and many other gifts.
When a person would get to know Mom, he or she would find that she was loving and giving. She was kind and gentle. She was caring and loyal. She was a momma bear when it came to her family. And she considered many people part of her family, not just those who shared biology with her.
Which is why I think hospitality is the word that describes my mom the best.
Mom truly believed that a stranger was just a friend she had not met yet. She would meet people, invite them to a meal, then invite them to church. They would not always accept either of the invitations, but they knew they had met somebody genuinely interested in them. They knew that this former stranger, Margie Miyoshi, was a friend they had just met.
When those new friends took her up on her invitations, Mom would take care of them. Of course, she treated them with dignity and respect, but it was much more than that. She would love them as her own family. She would give them what they needed, whether that was an ear to listen, a shoulder to cry on, or the shirt off her back. She was always there when people needed her.
Which is why so many people, especially those who are her children's ages, call her their second mom. Many even address her and refer to her as Mom.
There are people all over the country and even in other parts of the world who consider Mom and Dad their second set of parents. Which means that I have many more siblings than my brothers and sister who grew up full-time in our house. We were glad to share our parents because they had so much love to give. They gave to the people in their home church. They gave to the people in their neighborhoods where they lived. They gave of themselves to everybody. And they gave what truly mattered most, their hearts.
Which is why I think hospitality is the perfect single word that describes my mom.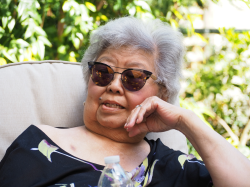 Mom would not just open the doors of her home to people, she opened the doors of her heart to people. She let herself be vulnerable. She let herself love people enough to be hurt by them. Not many of them did, but that vulnerability was what set her love and her hospitality apart.
Mom's greatest love was her Lord Jesus, which is why she was so hospitable. She was a great servant leader and an important part of her church community, Highland Park United Methodist Church. She taught Sunday school, helped lead the youth group, and served tirelessly to keep the church functioning and the people growing. And of course, she invited new people all the time. She invited them to come to church and to follow Jesus.
For many people, their accomplishments are what they are most proud of. Mom had those too. She was a PTA president, a Girl Scout leader, and an elected school board member to name a few. She was commissioned by then Governor Booth Gardner and served as a member of the Advisory Council on Education Funding for the state of Washington.
Yes. She had accomplishments. But Mom was always most proud of the children she raised and the children she helped raise as a second mom. And of course, she was proud of the children of those children. She loved and adored those grandchildren just for who they are, and she was proud of all their accomplishments.
Many people will miss my mom now that she is gone to be with the Lord. But we will all treasure the time, energy, and love she gave us. We will all appreciate that Margie Miyoshi blessed all of us with her abundant hospitality and her love. Whether she was our mother, grandmother, sister, aunt, or friend.
© 2021 Michael T. Miyoshi
Comment
Commenting is closed for this article.