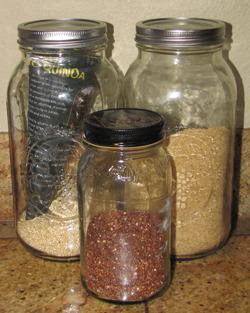 Ingredients:
Any (whole) grain:
(Quinoa,
Brown rice,
Steel-cut oats,
Etc.)

Directions:
Boil two cups of water for every cup of grain. Add the grain, cover, and let the water come to a boil again. When the water comes to a boil, simmer (with the cover on) for twenty to forty minutes. Let steam with no heat for ten minutes.




It might seem intimidating to cook whole grains (at least it was for me), but they are pretty easy. Maybe I am wrong, but all the grains that we have cooked so far have been prepared the same way. Boil water, add grain, boil the mixture, simmer, steam. Even the ratio of water to grain has been the same – two to one. The only thing that has really been different is the time. Somewhere between twenty and forty minutes with ten minutes steaming with no heat seems to do the trick. The steel-cut oats are perfect when cooked twenty minutes while the brown rice is best between thirty and forty.
Now that I am proficient at cooking grains, I suppose I can help making dinner more. I should anyway. After all, it is my fault that we need to cook differently. Gone are the days of making white rice, throwing a slab of meat on the grill, and maybe throwing together a salad. Here to stay are the days of cutting up veggies, making salads, and cooking grains. It is more work and I need to pick up the extra load. At least I can now make one more contribution by cooking those delicious whole grains.
© 2013 Michael T. Miyoshi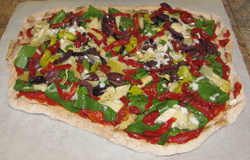 Ingredients:
Whole Wheat Pizza Dough
Pizza Sauce
Spinach
Onion
Artichoke hearts
Mushrooms
Sun-dried Tomatoes
Kalamata Olives
Peperoncini
Tomatoes

Directions:
Cut and slice whatever vegetables you want on your pizza. (If you use other ingredients, some may need to be sautéed before placing them on the pizza.) Preheat the oven to 400°F. (We use a pizza stone and cook the dough on parchment paper.) Roll out the dough into the size and thickness you desire. Cook the sauce down to the desired consistency. We usually bake the pizza dough for 7 minutes before placing the sauce and ingredients. Then, we cook the completed pizzas for 5 minutes. We like to let the pizzas stand for a couple minutes before slicing. Then, we put the uncooked tomatoes on individually.




The pizzas can be cooked for 12 minutes without precooking the crust, but the crust usually turns out soggy that way.
The list of ingredients above is one we wanted to note for future use. In reality, we do not use the same ingredients every time. We just use whatever is on hand. Bell peppers add color and flavor. And the tomatoes can either be cooked on the pizza or added afterward. My wife and I like them uncooked.
My wife says I have ruined her. She means that she does not need cheese on her pizza anymore. (She will tell you that she has never needed meat, but she still likes to have a slice of the Canadian bacon and pineapple pizza that our son makes for himself.) I was pleasantly surprised at how good pizza tasted when we first started eating it without cheese and meat. In fact, the more I stay away from processed foods, the more I enjoy the different tastes of our vegetable, cheeseless pizza.
My wife might be right in saying that I have ruined her, but cheeseless pizza is the way to go.
© 2013 Michael T. Miyoshi
Ingredients:
12 oz. can Tomato sauce
8 oz. can Tomato paste
~ 8 oz. Water
Italian seasoning
Oregano
Directions:
Put the tomato sauce, tomato paste, some water (rinse out the tomato paste can), and the seasoning (enough for your own taste) into a sauce pan. Stir. Cook at medium heat reducing the mixture until it is at the desired consistency.
Our youngest son makes a great pizza sauce. He puts in Italian seasoning and oregano to taste rather than measuring it out. He stirs and tastes it every once in a while as it is heating. Then, he reduces the heat when it starts making large bubbles that make a splattery mess.
The boys like having their own personal pizzas and my wife and I like it that they can help out in more ways than just putting their favorite items on the pizza. They can help with making the dough and actually make the sauce. Homemade pizza night has been and continues to be a family night of cooking and eating. It is a good thing our youngest is the one to makes the sauce. It means we will continue to have great pizza sauce without lifting a finger for many years to come.
© 2013 Michael T. Miyoshi