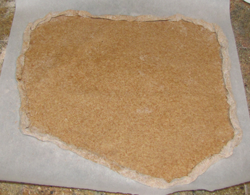 Ingredients:
1 package (2 ¼ teaspoon) active dry yeast
1 teaspoon Sugar
2/3 cup warm Water
1 2/3 cup Whole wheat flour
¾ teaspoon Salt
2 teaspoons Olive oil
Directions:
(Note: This is a modification of the Cuisinart basic pizza dough recipe, but you do not need to use a Cuisinart to make it.)




Stir the yeast and sugar into the warm water and let it sit until the mixture is foamy. Make sure the container is big enough for the mixture to triple or more in volume. In another container or food processor, mix the flour and salt. When the yeast mixture has gotten foamy, add it to the flour and salt mixture. Stir it all up, add the olive oil, then knead until it is ready. It takes no time at all if you use a food processor. Our Cuisinart does a great job.




Roll out the dough and place on parchment paper or pizza pan (we use parchment paper and a pizza stone). Preheat the oven (and pizza stone) to 400°F and bake without ingredients for 7 minutes.
I use a large glass measuring cup (I actually use the one for a quart because we double the recipe) to make the yeast mixture. A single recipe will make two 10- to 12-inch diameter pizzas. We use the double recipe to make three 12-inch diameter pizzas.
The Cuisinart recipe is actually not a whole wheat one. We like to make it whole wheat to be a little healthier although any flour takes away at least some of the nutrients because of the processing. The whole wheat does make less dough than using all-purpose flour because it does not roll out as thin.
The other great thing about this pizza dough recipe is that it is easy and takes very little time. We rarely used to have homemade pizza, but now we have it a couple times a month. But be forewarned, once you start making your own homemade pizza dough and pizza, you might not want the stuff they make in even your favorite pizza joints.
© 2013 Michael T. Miyoshi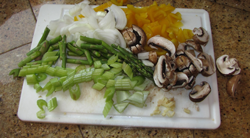 Ingredients
:
Vegetables

Directions
:
Cut, slice, chop (or not). Eat.
It is not really a recipe either (like the one about tofu), but vegetables need to be in everybody's diet. Cut them up and put them in stir fry as a main dish. Put them on a platter with some dip as hors d'oeuvres. Eat them plain as a snack. It does not really matter whether they are raw or cooked. Or even chopped or sliced. Just eat lots of vegetables. Wash them, slice them, eat them.
© 2013 Michael T. Miyoshi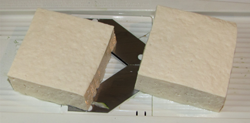 Ingredients
:
Tofu

Directions
:
Let the tofu drain (it is stored in water). Then cut up and use in whatever dish.
It is not really a recipe, but tofu deserves its due. It goes great with anything and it does well as a meat substitute in recipes. (Growing up, we had it in stir fry and other dishes that also had meat.) It does not have the same texture as meat, but it can help to alleviate people's apprehension about getting enough protein.
Besides being a meat substitute in recipes, people also use tofu for a cheese substitute. We tried it once that way. Unfortunately, it took a bit of work to prepare and we did not like it that much, so we will probably not be eating tofu that way again.
My wife never thought she would like tofu, but she eats it and actually enjoys it now. She usually cooks it with sesame oil and says that is what makes it edible. I like it however it is prepared, so I just agree with her.
The good news is that if you eat enough vegetables (especially, broccoli and spinach), you ought to be getting enough protein. But if you still want more protein, eat tofu.
© 2013 Michael T. Miyoshi