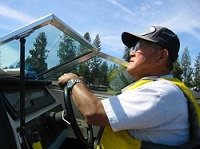 Tatsunosuke Kenneth Miyoshi
(December 20, 1940 – January 31, 2016)
Tatsunosuke Kenneth Miyoshi was born on December 20, 1940 and went to meet his Lord Jesus on January 31, 2016. He went peacefully at home surrounded by his wife, his surviving siblings and their spouses (who were his siblings too, because family is family), his children and their families, and one of his nieces. He was at peace because he knew he was going home, and because he knew his family would take care of each other.
He had different names depending on how you knew him. He was Tatsu to his siblings, T. Kenneth or Kenneth on legal documents, T.K. to at least one, Uncle Ken to his nieces and nephews (until a few of them got older), Dad to his children and many of their friends, and Ken to his wife, Margie, and almost everybody else who knew him.
Ken (or Tatsu) was born in Ault and grew up in Greeley, Colorado. He loved baseball, and the Miyoshi family played every Sunday growing up. This led him to playing with the adults in the Japanese leagues, then to playing at Greeley High School, and finally to a scholarship to play at the Colorado School of Mines. People marveled at his prowess at shortstop and Margie loved to watch him play. Even as an older man, he still deftly fielded grounders and whipped the ball to first base on a rope.
Ken got his Metallurgical Engineering degree from Mines and worked in mining all his career. He worked in New Mexico, Colorado, Wyoming, Montana, Idaho, and Washington. He even has his name on a patent for processing ore.
Ken is preceded in death by his parents, Charles and Hamako, and one of his brothers, Wesley. He is survived by his wife of 53 years, Margie, his four children, Michael (and wife, Lisa), Russell (and wife, Beatriz), Scott (and wife, Mary Ann), and Marcie (and husband, Erwin), eleven grandchildren, six siblings and their families, and lots and lots of friends, who he considered family.
Ken gave his all to every endeavor and every relationship. He loved his Lord Jesus and his Highland Park United Methodist Church family. He was a stalwart fixture there, teaching Sunday school, leading youth group, serving on various committees, including chairman of the administrative council for many years, and working hard to keep the place looking and operating well. As he aged, he was told by more than one person to slow down, that he did not need to do everything. But he was always looking out for other people and so often ignored this sage advice.
Ken was more than a devoted husband, father, brother, uncle, and friend. He loved and was loved by all, really living the sayings, "To know me is to love me," and "Strangers are just friends you haven't met yet."
One of the things strangers, friends, and family members remember is Ken's joking. He was always telling jokes and stories. He made everybody laugh, even when he told bad jokes. And he was always teasing people to make them smile.
One of the stories about Ken is that more than a few of the youth he led started to call him Dad. He was uncomfortable with this at first. In fact, he never agreed to let them do it until he was assured that they were not being disrespectful to their own parents. They let him know that Margie and he were not replacements but rather a second set of parents. Most still refer to them as Mom and Dad.
Ken loved his family and gave his children the tools and the love that they needed to raise their own children. He showed them what it means to love Jesus, without disrespecting them as individuals or turning them away from the church. He showed them that true love means serving others and leaving yourself vulnerable.
He was a pillar of strength to his siblings and helped them to see that real men do cry. He was always grateful that his sister, Fumi, brought hugging to the family from Mexico. All of the family members still greet each other with warm embraces, and the men cry openly regardless of whether society says it is okay to do so or not.
Ken was more than a devoted husband. He loved Margie more than life itself and did all he could to make her life a heaven on earth. That was because he knew that being with her was as close as he was going to come to heaven while he was still here. They loved spending every waking moment together, even though they kidded to the contrary. It is difficult thinking of one without the other.
Some might wonder where Ken got his capacity to love so many people so much and so well, but those who know the truth would tell you to look in his heart. Not the physical one which failed him in the end, but his heart of hearts. There you would find the reason for his peace as he left his earthly body. There you would find his capacity to love more than any one person ought to be able to love. For there you would find his God-sized hole is overflowing with the love of Jesus.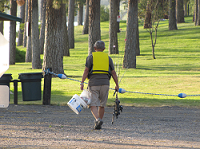 Ken Miyoshi was much more than a few words could ever describe. But whether you were the friend he just met or one he had known for years, whether you were his brother or sister, son or daughter, niece or nephew, aunt or uncle, or even his wonderful wife, you should know that he loved you with the love of God. He served you as the hands and feet of Jesus. And he wants to see you again in God's kingdom.
We love you Ken, Tatsu, TK, Dad. We will miss you. But we are comforted knowing that God met you with open arms and the words, "Well done good and faithful servant. Well done."
© 2016 Michael T. Miyoshi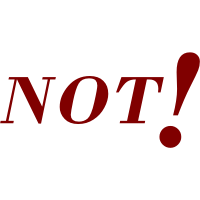 I have a simple plan to fix all the state of Washington's fiscal woes. It only involves one word and it would take an act of Congress to come to fruition. But this modest proposal would fix Washington's financial problems.
The simple fix for all of Washington's fiscal problems is to simply change the constitution with a single word – "not." Article IX of the state constitution takes much of the state's annual budget. The Article is about education and the following change to Article IX, Section One would get rid of much of the financial burden on Washington's cash flow:
It is NOT the paramount duty of the state to make ample provision for the education of all children residing within its borders…
Placing "NOT" in the section would free up all the education dollars and make budget cuts in other areas smaller or even unnecessary. According to many pundits, the current state of education is abhorrent and the system needs to be overhauled anyway. So instead of trying to fix schools by enacting legislation without proper funding behind it, maybe the state should get out of the education business altogether.
Many people believe that there are plenty of resources on TV and the internet which could be used to replace teachers. I can just imagine all the learning that would take place when all public schools shut their doors and parents figured out that they could merely put their kids in front of the computer and leave for work. The internet would be alive with learning and kids would be so much more ready for entering the work force than they currently are when they leave the much maligned halls of public education. And they could enter that workforce at a much younger age without their teachers getting in the way.
Students would not be the only ones who benefited from this modest proposal. Teachers and others employed by the public schools would be free to find jobs where they could make a difference in society or at least make more money. And the state would not be footing the bill. I imagine lots of different businesses being started by those currently employed in education. Some might even take seriously the thought that they could make more money being baby sitters than educators (thirty kids for eight hours for 180 days at $10/hour is over $400,000).
People believe that there are no easy fixes to the budget crisis facing Washington legislators, but what could be simpler than adding a single word to the constitution. True, the state legislature would need to pass the amendment to the constitution, but without the drain of funding education, the state would be free to build bridges, fix potholes, and rescue people economically. (There might be more people to rescue later, but future legislative sessions could wrestle with those issues.)
The simple fix I propose should sit very well with those who govern the state. After all, the currently proposed budgets fit the addition of NOT to Article IX of the state constitution. After all, cutting pay for teachers and lowering the number of days students attend school only makes sense with a new Article IX. With the current wording of the constitution, legislation to cut schools beyond the bare bones they are already operating under seems more than wrong. It might even be considered illegal or unconstitutional. However, with the new word in Article IX, there would never be a question to the legality and even rightness of denying everybody free public education.
The experiment of free public education can finally come to an end in the state of Washington with a single word. Those involved with education including the students would be free to pursue other endeavors and contribute to the good of the state in ways that do not take from its coffers. Students would be able to say once and for all, "No more pencils, no more books, no more teachers' dirty looks." All with one modest proposal. All with one simple word. NOT!
© 2011 Michael T. Miyoshi
Published:
13 December 2011 in The Monroe Monitor & Valley News
19 December 2011 in River Current News
I am being robbed, and there is not much I can do about it. I have been robbed before by the same group and even now, they are planning on taking more from me. I do not really have a choice in the matter because of who the people doing the robbing are, but at least I can give a cry for help. For myself and those just like me who are also being robbed.
If I was being robbed because of where I live, I could move. If I was being robbed at the store where I shop, I could change stores. But I am being robbed because of my profession, and even though I could find a different career, I am not ready to do that yet. I love what I do and I love the people I work with. Therein lies the rub.
When the gang that robbed me before did so, they figured that they could pull off the heist in plain sight. They figured that nobody would care if they did it. And they figure the same thing will happen this time. Nobody will say anything, because they run this place. After all, they are the government.
When the legislature took away money that their constituents promised to teachers, they stole from all of us. Not just teachers, everybody. Now, they are threatening to steal more money from a group of teachers. They want to take the extra pay from those who are recognized as National Board Certified Teachers.
Personally, I did not become nationally certified for the money. I did it because I figured I was as good of a teacher as those around me who had become certified. The only thing that I cared about when it came to the money was that I got back the amount I paid into the process. Like many accomplishments in my life, I became nationally certified just to say I did it.
There are others like me who teach because they love what they do and they love the kids. Many others. We have gone through heavy-handed school reform. We have gone through countless hours of training and retraining, sometimes on subjects which are merely to cover somebody's backside. We have gone through periods of harsh criticism and intense scrutiny. We have gone through budget cuts and broken promises, sometimes to the point where we wonder if anybody values what we do. And through it all, we still teach.
Contrary to what most of us reply when asked, we do not teach either general or specific subject matter. Rather, we teach children and young adults. We teach them how to read and write and do arithmetic. We teach them how to learn. We teach them how to follow and how to lead. We teach them how to be responsible citizens of our country and of our world.
When the legislature steals the money due to educators, they really are stealing from everybody. They are taking away opportunities from the students to have more individual class time with teachers because class sizes increase. They are taking potential teachers away from the pool of committed individuals who might choose education as a profession except for the broken promises and uncertain funding. They are taking trust from the taxpayers who believe that the schools are just not using their money wisely. And they are taking qualified applicants away from employers who wonder why it seems kids do not want to work anymore.
It is interesting to me that in many industries, money is thrown at problems which might or might not go away with the spending. But in educational funding, no penny is sacred. Even if it was put into law. Back in the early 1970s, a billboard in Seattle read, "Will the last person leaving SEATTLE – Turn out the lights." With the legislature proposing to steal from not just teachers, but all of education, I wonder if somebody might post a billboard that says, "Will the last person leaving the schools, please turn out the lights?" Then again, who would there be who could read it?
If the legislature is poised to steal from me, teachers, and indeed all of education, who are they poised to steal from next?
© 2011 Michael T. Miyoshi